Talented Caricaturists in Wisconsin
Top Talent Tuesday has brought us to Wisconsin, in search of the best caricature artists available.
It can take years for a caricaturist to develop the special skill needed to transform a photo or personality into a humorous image.  Most artists have studied some form of art in school and are members of the International Society of Caricature artists where they continue to hone their skills.  These are artists dedicated to their craft and samples of their work and testimonials attest to the fact they are professionals.
Take Joey out of Stevens Point, WI.  Joey has been a professional artist since 2004.  And like most caricaturists her work station is where there are usually lots of people such as amusement parks, festivals, parks, corporate events as well as private parties.  Joey studied illustration and graduated with a BA degree from the University of Wisconsin.  She is also a member of the International Society of Caricature Artists mentioned above.
Heather is also a professional caricaturist and has been for over 15 years.  Heather studied Art at Madison Area Technical college and live in Madison, WI.
She travels not only through Wisconsin but also attends events in Norther Illinois, Northeastern Iowa and Southeastern Minnesota.  Like most caricature artists she works fairs, amusement parks, zoos, corporate events and private parties.  She has an affordable hourly rate for these events so check her out, she has a great Facebook Page.
Brett turned professional in 2007 and has drawn live caricatures at all the places you would expect: fairs, amusement parks, art fairs, craft shows, corporate events and private parties.  He lives in Stevens Point but is willing to travel.  If you have a wedding and want to give your guests something memorable, hire Brett to draw your guests for a memorable experience.  Brett will be happy to quote an hourly rate so everyone can join in the fun. Visit Exaggerated Entertainment online to learn more.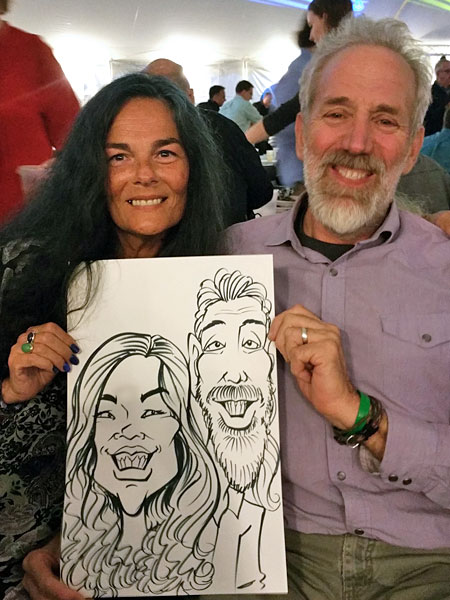 Visit the Funny Face Network to find caricature artist near you for your next special event. If you are a caricature artist and wish to be listed in the directory, please contact us here.